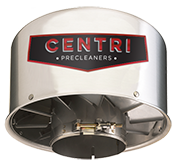 Your air intake takes in a lot more than air, and it's costing you money.
CENTRI® precleaners improve fuel efficiency and engine life, while greatly reducing air filter changes and downtime.
And if we don't have exactly what you need, we'll engineer it for you.

Custom Solutions
Solving unique problems is fun for us.
And nobody's stumped us yet.
Industry Air Filtration Solutions
Guaranteed Durability
The Lifetime Warranty
You Probably Won't Need
-40ºF wind-chill? 100ºF? Steep grades? Dry heat? High humidity? Our products have been tested. And they can withstand it all. We guarantee it.
Show Me More

Contact Us
Interested? Call us at (800) 356-4882 or complete the form and we'll reach out to you. The sooner we talk, the sooner you'll start saving money.
Find a Distributor
Ready to place an order? Use the interactive map or download our distributor list to find a CENTRI® precleaner distributor near you.
For distributors outside of the United States and Canada,
call us at (800) 356-4882.